Starting A Vegetable Garden
Start with varities that are easy to grow and then experiment. Choose a site that gets sun and can be accessed easily for weeding and harvesting, particularly as some crops take longer to mature.
Seeds can be directly sown into the ground but this requires warmth and space to grow on or plants can be bought as plugs or fully grown. Test your soil and add compost and other organic matter to boost nutrient levels.
At Otjivizee village, situated 80km from Opuwo in the Kunene region, Veyamubura Tjiuma (37) defies the odds each day.
Tjiuma is a person who is blind.
He grows tomatoes, onions, papayas, bananas, chillies, tea, and beans to feed his family and to earn an income.
The visual impairment Tjiuma suffered 13 years ago turned his life upside down, but he now inspires his community after starting his gardening project eight years ago.
Tjiuma's journey into gardening and growth began when adversity knocked on his door, leaving him with a severe headache that eventually cost him his sight.
"I had a headache for a long time, which was extremely painful. It burned some veins that led to my loss of sight," he says.
Namibian ophthalmologist Dr Helena Ndume says it is possible for one to lose their sight due to intense headaches, which could be caused by various issues.
"So many things can cause headaches, it could be a tumour, it could be pressure in the eye, it could be trauma," she says, adding that the headache must have been caused by something that was pressing on the chiasma.
"There must be other causes. Maybe there is a tumour in the brain that was causing the headache, pressing on the chiasma where the optic nerve is coming from, because the optic nerve, which is responsible for our sight, comes from the brain," Ndume says.
Losing his eyesight left Tjiuma looking for new purpose and a way to provide for his family. He has five children.
Before he lost his sight he used to buy and sell livestock, especially sheep and goats.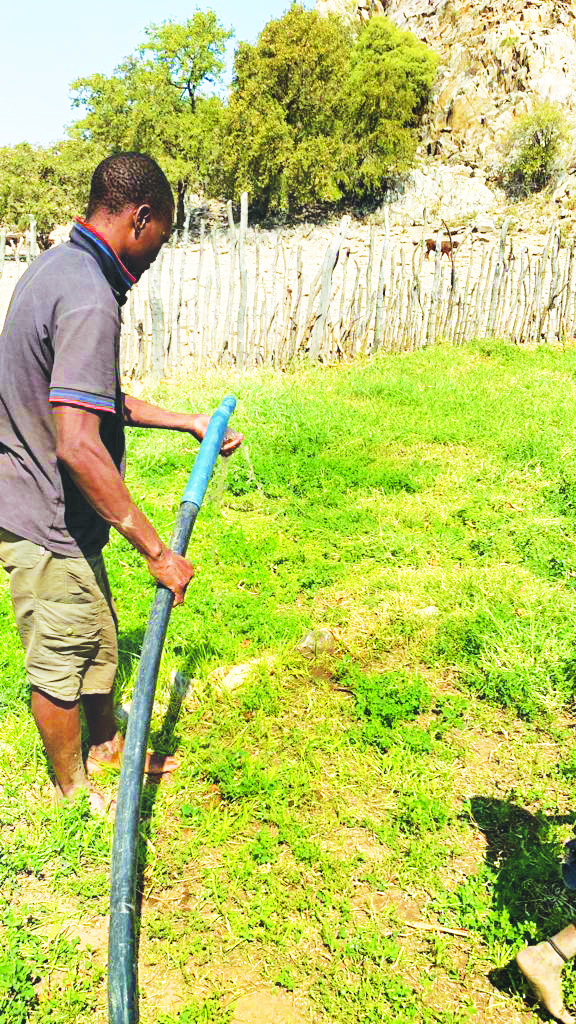 "I realised that buying and selling while I can't see would be a challenge, so I decided to start growing fruit and vegetables to sustain my family, as it does not require me to move around a lot," he says.
Tjiuma says he initialy started growing tomatoes and chillies, which encouraged him to expand.
He says he has learnt to rely on his other senses, especially touch, to understand the needs of his plants.
As Tjiuma moved to Otjivize from Orotjirindi, a small village close to Okangwati, his garden expanded to growing tea, onions, papayas, lawn, and more.
He established his garden in the mountains, as it is close to a water source, he says.
He says he installed pipes, making it easier for him to water his plants.
"I just have issues with the monkeys, as the garden is on the mountain, but besides that, all is good. I have set up the garden in such a way that not even goats can get in," he says.
Tjiuma says this transformation has enabled him to provide for his wife, Uauvarara, and their three children.
The support from his family, particularly his five-year-old son who helps him with gardening activities, illustrates the strength of their bond.
"I don't really have challenges as a blind person, because I'm as capable as anyone else. The only thing I wish for is getting someone to bring me to the garden," Tjiuma says.
He says when his five-year-old is not around and his wife is busy, he is left with no choice but to stay home and not do any gardening.
"That money will not be enough to sustain you and your family. Especially now during this time when food prices have gone up," he says.
Tjiuma says having a disability does not mean one should sit back and rely on the government.
"I started off with the little money I had and did not get any start-up capital, nor did I have any skills. Now I'm able to take care of my family with the little I get," he says.
Uauvarara says: "He works on the field like any other person. Sometimes you forget that he has a visual impairment."
Tjiuma's produce not only nourishes his family, but also finds its way to the hearts and kitchens of his community.
Source: namibian.com.na