Many people establish farm businesses for a variety of reasons. It could be their lifelong dream, or they may have an innovative idea that brings a new twist to a classic concept.
Whatever the reason, starting a farm requires a lot of upfront investment both in money and time. It's important to be aware of the potential costs and make sure you're well informed.
In South Texas, shrimp are coming ashore. The $200 million Texas offshore shrimp fishing industry is beginning to see competition from farmers on the coast and further inland.
As fish consumption in the United States continues to grow, concerns are rising that wild populations have been overfished and other supplies are needed. Aquaculture, or fish farming, is bridging the gap to meet consumers' demands as the fastest growing food industry globally.
In the last several years, shrimp has emerged as U.S. consumers' favorite type of seafood, with the National Oceanic and Atmospheric Administration reporting that the average American eats more than 5 pounds of shrimp annually. With that tempting demand, shrimp aquaculture is exploding, with several companies based in South Texas.
plans to put its 1,880-acre shrimp farming facility, a defunct shrimp farm that has been used only as a research facility, into production. Adam Thomas, CEO of Trans American, is targeting H-E-B as a potential buyer of its products as production increases.
"Statewide, shrimp aquaculture has the capacity to double or triple in the next couple years," he said. "Our production facility alone will be able to produce 10 million pounds soon."
He emphasized the difference between domestic and international suppliers. "About 90% of shrimp in the United States is from foreign producers in Mexico, Indonesia and other countries, and there usually isn't much transparency on how they're raised. They use lots of antibiotics, and conditions can be really unhealthy."
"That's why domestic shrimp are a little more expensive, usually about a dollar more per pound. Even then, if they're wild caught from the Gulf or Atlantic, they can have serious environmental impacts. We take pride in not discharging any uncleaned water into the ocean, and we use no antibiotics. Transparency is extremely important to us."
While facilities like Trans American's operate near the coast, others are moving further inland thanks to the emergence of new solutions to the biggest problems farmers face: keeping the water in which the shrimp live clean enough for a healthy growing environment.
raised just over $5 million to expand a technique that attempts to grow multiple marine species in the same tanks, and this year a Mexico City startup raised $25 million for its modular shipping container systems. Los Angeles company TransparentSea owns the largest Indoor shrimp farm in the U.S., already selling 2 million shrimp annually and looking to expand.
Medina County's indoor shrimp farm
About a half hour west of San Antonio in Medina County, in La Coste, is the primary facility for NaturalShrimp Inc., whose leadership is hoping its patented filtration system will help it grow a strong foothold in the industry. The facility uses a technique called electrocoagulation to run a low voltage electrical current through several filter stages, making waste particles combine to become larger and to remove ammonia from the system. NaturalShrimp holds a patent for the technology.
The La Coste facility is housed in a 40,000-square-foot building with another 80,000-square-foot building planned. The company currently produces a couple hundred pounds of Pacific white shrimp per week, but projects production of several hundred tons of shrimp per year once the new building is online. A 270,000-square-foot facility is under construction in Iowa, according to Tom Untermeyer, NaturalShrimp's co-founder and chief technology officer, with more expansion plans for Florida and Las Vegas.
The current La Coste facility, which employs 10 workers, contains dozens of huge tanks where the shrimp grow from their post-larval stage to maturity. NaturalShrimp said it expects to employ 50 at the facility eventually. In addition to growing shrimp Dallas-based NaturalShrimp is interested in licensing its filtration technologies to other RAS farms that produce other fish like salmon, Untermeyer said.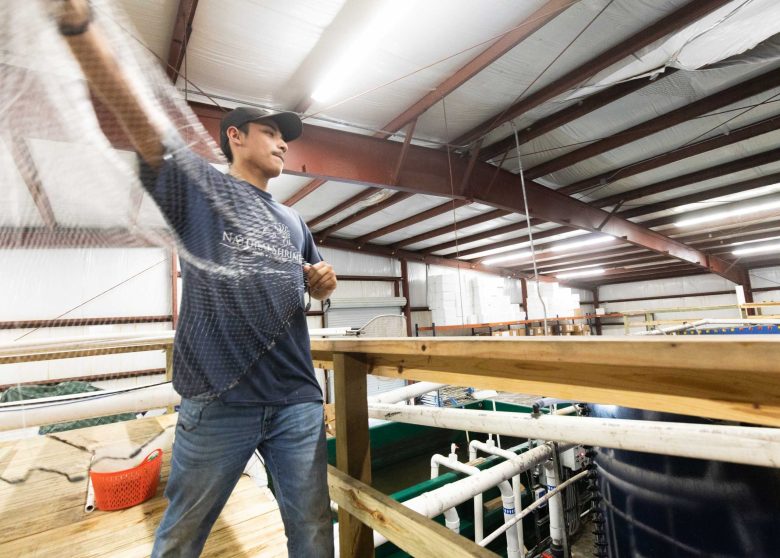 Untermeyer touts the quality of the shrimp his company grows.
"Microplastics and pollutants are in ocean water, and they get into the shrimp," he said. "Our water filtration means the shrimp live healthier lives and are healthier for consumers, and at the same time we aren't putting any more pressure on the oceans. In fact, our filtration systems are being trialed on Australian shrimp farms right now to reduce waste affecting the Great Barrier Reef."
The company sells to restaurants through large distributors such as US Foods, one of the biggest in the country, and direct to consumers through its website.
"We started this company 20 years ago, with a 200-gallon tank in my basement and made lots of mistakes and discoveries through the years," Untermeyer said. "Now things are taking off, and we're excited to grow with the shrimp aquaculture industry with our own approach and serve the best product we can."
Source: sanantonioreport.org