Ashikaga's Flower Park transforms into a fantastical fairytale world that you can step inside for the next few months.
For seven years running, Ashikaga Flower Park in Tochigi Prefecture has won first place in Japan's Illumination Award's Illumination category for the best nighttime illuminated display. That's pretty impressive considering there were 6,102 illuminated displays in the running last year!
▼ The annual event is perfect for everything from a romantic date to a fun family outing.
This year's iteration opening on October 18, called the Flower Garden of Lights ~Flower Fantasy 2023~, looks likely to keep the streak going by employing over five million LED bulbs in the creation of its otherworldly lights garden. New to this year's display is a section called "Hometown of the Heart," which features intricate projection mapping of cherry blossoms over a rock garden.
In the late spring, Ashikaga Flower Park is famous across the country for its breathtaking wisteria, so it's no surprise that a display of deep purple ofuji (great wisteria) serves as the focal point of the entire event. This illumination follows the cycle of wisteria flowers from beginning to bud, full bloom, and finally with the blossoms falling. A nearby water surface reflecting the lights serves to heighten the mystical atmosphere.
Returning after its debut season last year is the "Rose Garden of Light ~Happiness Garden~," which employs gently shining rose lights over an area of 120 meters (304 feet).
The "Flower Water Basins of Lights," arranged by a flower arrangement professional, offers a smaller, more intimate moment to admire some real blossoms.
On the flip side, the popular "Flower Castle" display returns for a stunning spectacle of flowers, lights, and sounds as rainbow-colored LED fireworks blossom in the sky.
The Flower Garden of Lights ~Flower Fantasy 2023~ will also offer three overall themed sections, each on display for roughly the timespan of one month. If you visit during the first period between October 18 to mid-November, you'll witness decorations for the Lights and Amethyst Sage theme.
Visitors who enter the park from the end of November through the end of December will experience the Christmas Fantasy theme, a holiday extravaganza complete with visits from Santa Claus and presents for children in a a special "snowhouse."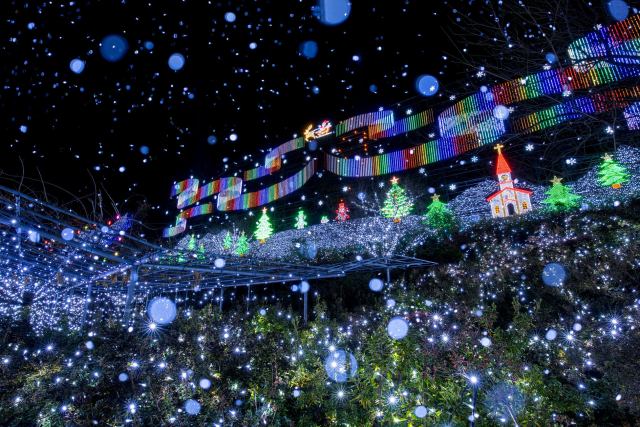 Last, visitors who would like to celebrate the new year between January 1 and February 14 will see the Lights and Winter Peonies theme. Displays of wintersweet (aka Japanese allspice) and winter plum blossoms will be the floral highlights during this period.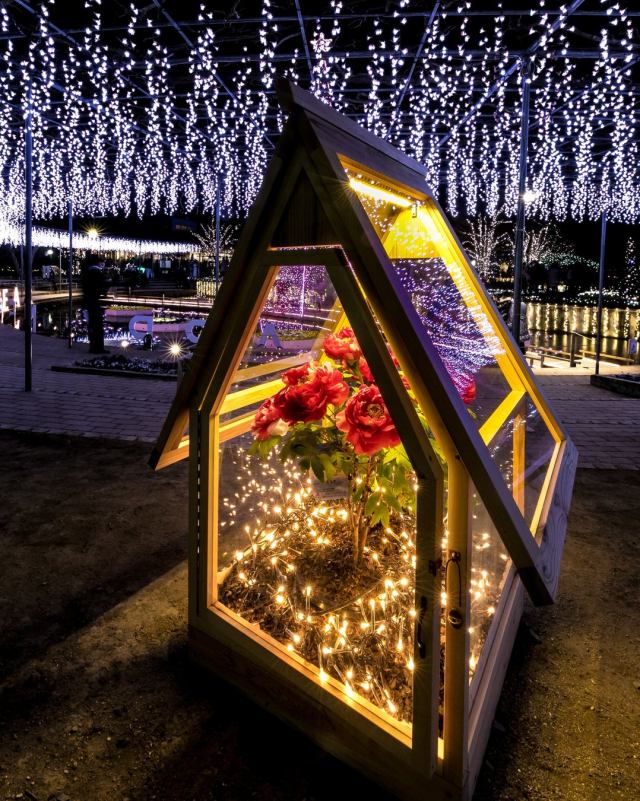 No matter when you visit, there are a few special highlights that shouldn't be missed. One is the illumination display that mimics four different kinds of wisteria that bloom in the park from April through May. In the photo below, the yellow lights stand in for kibanafuji (yellow wisteria), the pink ones for usubenifuji (pale crimson wisteria), the white ones for shirafuji (white wisteria), and the purple ones for ofuji (great wisteria).
Another showstopper is an LED recreation of a pond of water lilies. The flowers, which look as if they were floating across the water's surface, are especially mesmerizing.
Lastly, a display called "Everyone's Earth" celebrates the planet Earth that humans, animals, and plants call home.
Entry to the Flower Garden of Lights ~Flower Fantasy 2023~ is 1,300 yen (870 yen) for adults and 700 yen for children. Advance tickets can be purchased at convenience stores around the country.
Of course, if flowers aren't really your thing, perhaps you can pray that Fukuoka City will host another illuminations event with Evangelion projection mapping this winter season.
Event information
Flower Garden of Lights ~Flower Fantasy 2023~ / 光の花の庭 ~Flower Fantasy 2023~
Address: Tochigi-ken, Ashikaga-shi, Hasama-cho 607
栃木県足利市迫間町 607
Duration: October 18, 2023 – February 14, 2024 (not open December 31, 2023)
Open: 3:30 p.m.-8:30 p.m. (Monday-Friday), 3:30 p.m.-9:00 p.m. (Saturday-Sunday and public holidays)
*November 3, 2023-January 8, 2024: all above closing times extended by 30 minutes
Website
Source, images: PR Times
● Want to hear about SoraNews24's latest articles as soon as they're published? Follow us on Facebook and Twitter!
Source: soranews24.com