Homesteaders are passionate about growing their own food, sewing their own clothes, preserving food and creating a simpler lifestyle. But you don't need to move to the country to get started.
To make your Homestead dreams a reality, it's best to start slow and work towards your goals. Here are some things to consider as fall begins and winter approaches.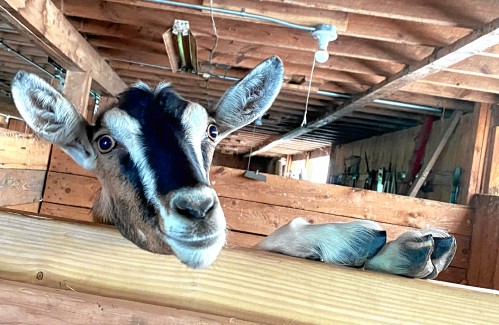 I have neighbors who are farmers and neighbors who are gardeners. Peggy and Grahame Travers merit their own category: homesteaders.
The couple moved to Hawley in 2017 from Great Britain, where Grahame had worked in horticulture, and Peggy had been a teacher and a school librarian. Peggy is American while her husband is British.
It was Grahame's idea, Peggy told me, that they should move to the United States when they took early retirement from their jobs. All of Grahame's family had died. "He said, 'We need to be near your family now,'" she recalled.
Peggy's brother lived in Shelburne Falls, and the pair had visited him and fallen in love with the area. They found a small farm in Hawley and decided to pursue a lifelong dream.
"We knew we would like to try our hand at homesteading … self-sufficiency in terms of food," Peggy explained. "We had always been aware of where our food came from. We thought, 'Let's see what we can achieve in our 60s!'"
They planted … and planted … and planted. They raised chickens. And then they decided to try their hand at goat herding.
"We have a steep hill behind our house," Peggy said. "It was a meadow when we moved here. We discovered that keeping it an open meadow was difficult. Grahame had often commented on how quickly the forests regenerate here as compared to England.
"We wanted to keep that hill clear," she continued. "He tried using a scythe before we got goats." The scythe was a great deal of work. The pair turned to goats, reasoning that the creatures' wandering and nibbling would keep the undergrowth at bay.
They originally planned to raise goats for meat. Grahame wanted to try milking goats instead, however.
"I made a deal with him that if he did all the milking and care of the goats — I was already doing chickens morning and night — then I would deal with the products that the goats gave," Peggy told me.
She sighed. "I'm not sure how good a deal it was. You can get a gallon of milk from one goat!"
They currently have four goats, one of which produces milk. Appropriately, her name is Flo. Peggy must work hard to use up Flo's milk. Nevertheless, she said, "The goats changed everything and took our food harvesting to a whole new level because of the dairy."
She finds lots of uses for the goat milk, she noted. She pasteurizes some of it to drink and put in coffee. She also makes a simple, soft, fresh goat cheese.
She and Grahame have been doing research into gut health and like to make kefir, a fermented product, from the goat milk and eat it instead of yogurt to beef up their digestive systems.
Peggy is also increasingly finding uses for whey, the liquid left over after she makes cheese. She adds it to bread for extra protein and flavor. She uses it to thicken soups and sauces.
"The chickens love it," she laughed.
"When the chickens don't eat all their food — and they get expensive, organic food — I throw it into a plastic bag with some whey and some sesame seeds, and they eat it right up." Peggy even drinks the whey all by itself when she needs a pick-me-up in the middle of the day.
Peggy uses goat milk in any recipe that calls for cow's milk. Grahame's favorite such recipe is for chocolate pudding. Peggy adapted her pudding from an old "Better Homes and Gardens" cookbook. Her recipe appears below.
She is often tired — farming is hard work — but in general Peggy Travers enjoys the homesteading life. As for the goats, they definitely represent work, but in an endearing way.
She quoted Idries Shah, the late Afghan thinker and writer. "If you have no troubles, buy a goat."
"They're just curious and fun and playful," she said of Flo and her friends. "And I think that makes them want to have adventures."
Goat-Milk Chocolate Pudding
This recipe may, of course, be made with regular milk.
Ingredients:
½ cup sugar (scant)
2 tablespoons cornstarch
3 tablespoons unsweetened cocoa powder
¼ teaspoon salt
2 cups goat milk
1 beaten egg
2 teaspoons neutral oil or melted butter
1 teaspoon vanilla
Instructions:
In a heavy, medium saucepan, whisk together the sugar, the cornstarch, the cocoa and the salt.
Stir in the goat milk. Turn on the heat. Cook the milk mixture over medium heat until thickened and bubbly, stirring frequently. Cook, stirring, for two more minutes. Remove the pan from the heat.
Place the egg in a bowl, and slowly drizzle some of the hot mixture into the egg, whisking constantly. Add a little more of the milk mixture at a time until the egg seems incorporated and is warm. Pour the egg mixture into the milk mixture.
Cook and stir for two minutes more. Remove the pan from the heat, and stir in the oil or butter and the vanilla. Pour the pudding into a bowl. Cover the surface with clear plastic wrap and chill. Garnish each serving with a cookie.
Serves four. Peggy routinely doubles or triples this recipe; Grahame loves pudding.
Tinky Weisblat is an award-winning cookbook writer and singer known as the Diva of Deliciousness. Visit her website, TinkyCooks.com.
Source: recorder.com