Starting A Vegetable Garden
There are many benefits to growing your own food. You can control the quality and quantity of what you eat, it helps to reduce food waste and you can grow vegetables that you'd otherwise have to order online or buy at the supermarkets.
Saving Money / Food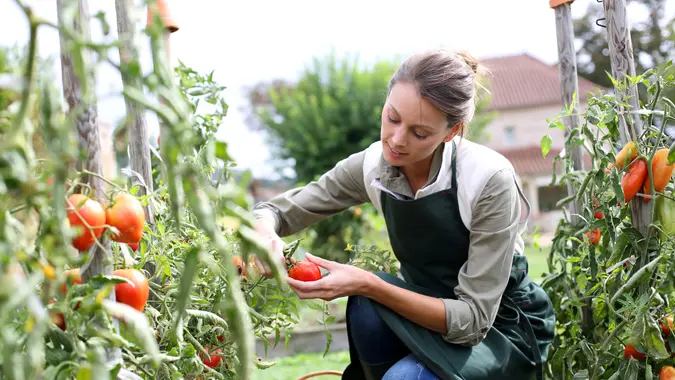 goodluz / Shutterstock.com
If you're grappling with the startling rise of groceries due to inflation but don't want to compromise on the quality of your fruits and veggies, there is an alternative that can save you money and contribute to healthy living — growing your own garden.
Discover: 11 Grocery Items To Buy at Dollar Tree
FICO Figures: 3 Signs You're Serious About Raising Your Credit Score
Even if you don't have a huge plot of land, you can still get started with a few sizable containers, some soil and water. Your bank account, and your body, will thank you.
Garden Cost Savings
It might not seem like planting a garden can really feed your whole family or save you money, but according to HGTV, a $3 packet of seeds can produce up to five pounds of lettuce, 8 pounds of green beans, 20 pounds of carrots and 120 pounds of summer squash. That's a lot of veggies!
According to The Penny Hoarder, even a small garden can provide upwards of 300 pounds of fresh produce that would cost as much as $600 at the grocery store or farmer's market. And to get that much produce, you wouldn't have to invest more than $70, depending on what you plan to grow.
As GOBankingRates reported, the average American spends $5,259 annually, or about $438 per month on food at home, according to 2021 data from the Bureau of Labor Statistics. So $600 for a seasonal garden could make quite a dent.
Seeds Over Starts
If you want to save money right out of the gate, invest in seeds instead of starts. Starts are plants that have already begun to sprout into vegetables or fruits, but they tend to cost more. According to Plants For All Seasons, a package of 200 seeds can cost the same amount as a starter plant, so you can already see the wisdom in opting for the seeds.
And it doesn't take a graduate degree to figure out what to plant either. A simple internet search, or even taking a few minutes to talk to the staff at your local nursery or garden center, can quickly produce the information you need about what to plant and when.
Take Our Poll: Would You Move for a Job That Paid You a $10,000 Signing Bonus?
Plant What You Eat
While it can be exciting to hit the garden center and go crazy with all kinds of seeds, to really save money, plant the vegetables, fruits and herbs that you already use, or even those you want to eat but have put off due to high prices, according to the Penny Hoarder. Herbs such as basil, chives, dill, and rosemary, to name a few, have a tendency to grow abundantly, so one packet of seeds can go a very long way.
Create Compost
One of the costs associated with gardening is compost that you add to the soil to make sure it has enough nutrients for your veggies. While buying compost is not that expensive — around $10 per bag or less — it is cheaper, in the long run, to make your own compost by throwing non-meat or dairy based food scraps, coffee grounds and eggshells into a container to simmer and break down into nutrient-dense amendment for your soil.
According to Bargain Babe, making your own compost saves money over time. Either way, though, you won't be putting out a lot of cash and your plants will thrive.
Use Recycled Materials
Even the basic costs of setting up a garden — such as buying gardening implements, pots, tomato cages, etc. — don't have to cost you much if you shop garage sales, swap meets or even ask friends if they have unused gardening items that they're not using. Dollar stores can also come in handy for affordable garden gear.
Can or Pickle Veggies
If you live in a climate that is only good for spring and summer gardening, but not outdoor winter gardening, look into canning or pickling your veggies for use during the winter months.
According to Summer Winds Nursery, some vegetables that make for great pickling include asparagus, beans, corn, onions, snap peas, peppers, spinach, squash and tomatoes. And, for those who jumped on the air fryer/dehydrator kick, many vegetables and fruits can be dehydrated, as well.
Additionally, chopped fresh herbs can be frozen for later use. The point is, you can make your summer garden last well into fall and winter.
Choosing Your Seeds
While seed packets are not terribly expensive, ranging from around $2 to $5 per packet, there are some companies that offer heirloom, rare or unusual varieties that can get a little pricey. If you're on a budget, shop for the affordable seeds.
The Pioneer Woman recommends her top three seed companies: Burpee, for fruits and vegetables, because of their hearty varieties; Johnny's for heirloom varieties; and Eden Brothers for flowers. However, it never hurts to ask your local nursery for their recommendations for foods that grow well in your specific area.
More From GOBankingRates
Source: gobankingrates.com