Seeds, Fertilizer, Varieties, Spring, Fall
Flowers are a beautiful addition to any garden. We have a wide selection of popular flower types including perennials, annuals, and shrubs that bloom from spring to fall. Some flowers also rebloom throughout the season.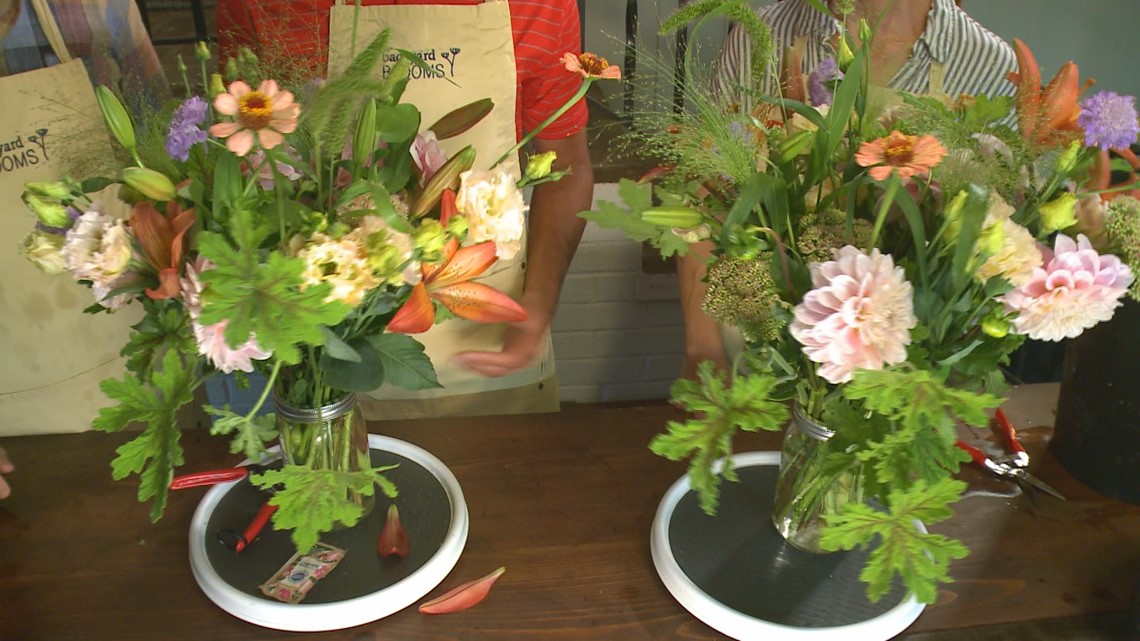 Backyard Blooms teaches Gardening with Gutner the basics of flower arranging.
PORTLAND, Maine — It was early June when Gardening with Gutner last talked to Backyard Blooms about how to plant dahlia tubers and we're back to learn how to arrange flowers, including those now full-grown dahlias.
Owners Jason Acoin and Kate Hanavan Ross invited Gardening with Gutner to their studio to learn the basics.
"A long-lasting flower arrangement starts with really clean equipment," Aucoin said.
The flower farm owner recommended beginning with a clean vase, water, and clippers. He wipes down his clippers with alcohol to kill bacteria. Aucoin also strongly endorsed using a packet of flower food in the water before starting.
The key ingredients of a flower arrangement fall into five categories.
"The first thing we do is green up our vase. What do I mean by that? We're going to add the greenery," Hanavan Ross announced as she added chocolate mint geranium, which has a minty smell, to a mason jar vase.
There are a couple of guides for design when flower arranging. Odd numbers of flowers look the best and use the layout of a compass as a visual guide as you add flowers.
For this arrangement, lilies were chosen as the mass flowers. As a side note, lilies have anthers that will stain any cloth when they fall off, so Hanavan Ross recommends removing them.
"The first thing you want to do is just kind of cup your hand around the anthers and just pop them off in your hand," the floral designer demonstrated.
The focal flowers were dahlias and lisianthus from the fields of Backyard Blooms.
"Don't put your flowers straight up and down. You kind of want to cheat a diagonal, because that actually brings your flower arrangement out from the vase and adds volume, "Hanavan Ross directed.
Scabiosa and zinnias were used to compliment the focal flowers while sedum was used to add texture to the arrangement.
Aucoin suggests using a lazy Susan for ease of arranging and getting a 360-degree look at your grouping.
While flowers are the main focus, greenery plays an important role. Hanavan Ross added frosted explosion grass as one of the last elements. The grass has a fluffy end which looks like a little explosion of green. This adds air to the arrangement.
Finally, a couple of stalks of millet grass were added to the side as a whimsical note to the arrangement.
Blending gorgeous flowers and greenery so that they go perfectly together in balance is why flower arranging is an art form.
To see the beautiful work Jason Aucoin and Kate Hanavan Ross create, click HERE.
To see all the Gardening with Gutner segments click HERE.
Source: newscentermaine.com